Hey everyone! Bishopp here! I'm going to show you some processes for sewing face masks and following freesewing.org's full face mask pattern with one little adjustment leaving one little opening at the side, so you can insert a filter if you want to.
So, let's get started.
What you'll need:
Rotary Cutter or Scissors
Cotton Fabric
Sewing Machine (or Just Needle & Thread)
Scissors
Iron (optional)
Ruler
Cutting Map (optional)
Steps
Step 1
1. Cut out your pattern. And label one side "A", and the other side "B".
Step 2
2. Cut out two pieces of side "A" & Side "B". If you don't have a rotary cutter, trace & use scissors
Step 3
Stack two pieces, with right sides together.
Step 4
Sew along the curved edge with a 1/4″ seam allowance. Back stitching at the beginning and the end.
Step 5
To add a filter pocket, fold over about 1/4 of an inch of one of the straight sides. If you don't want a pocket skip to Step 8.
Step 6
Repeat with the other piece of your mask, you want to make sure that the pinned side match up when your front and back mask is facing each other, right sides together.
Step 7
Sew that 1/4″ fold down, backstitching at the beginning and the end. Repeat with both pieces, your front, and back.
Read Also | 3 Ways To Wear A Suit Without A Tie
Step 8
Stack the front & back of your mask together, right sides facing each other.
Step 9
Start at the bottom of your opening, insert one tie. Your ties can be elastic, ribbon, or pre-sewn fabric ties. Stitch back and forth over your tie and then turn your mask.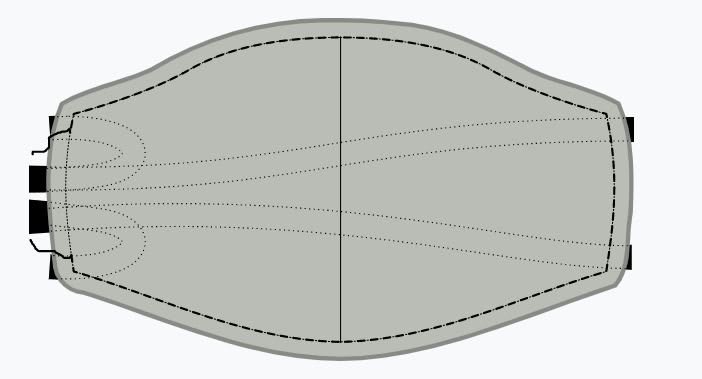 Step 10
Continue sewing around your mask, adding a tie at each corner. Make sure to backstitch several times when you add a tie. Also, make sure the loose ends of your ties are staying inside your mask and not getting tangled in your stitches. So all way around until you get to your last corner at the top of your opening
Step 11
To add the fourth tie, you sort of roll of the ends and shove it inside the mask, so you know it won't get tangled in stitches. Backstitch several times over that tie and then leave the rest of that side open.
Step 12
Cutaway any long pieces of thread and turn your mask right side out.
Step 13
If you want you can iron your mask now, so your edges are nice and flat before we talk stitch in the next step.
Step 14
Start sewing at the bottom of your opening, backstitch, and then continue sewing around the mask. If you are not leaving a filter pocket, then continue sewing all the way around until you get back to where you started. If you want a pocket, stop at the top of the opening.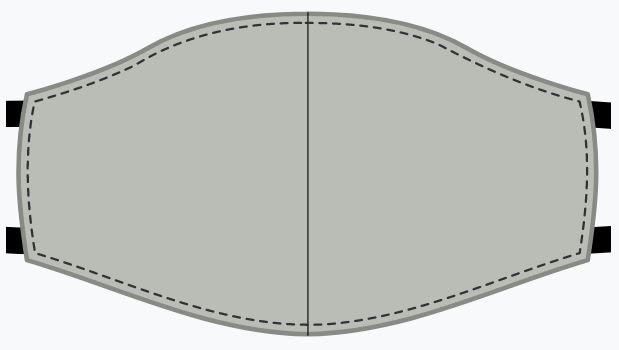 Alright now that you are done sewing, your mask should look like something like this. If you added a filter pocket and you want to use a filter. You just need to scrunch the other side of the mask over to the opening, so that way you can grab a hold of your filter material and pull it to the inside and then if you need to
You can flatten it out a little bit with your fingers. So now you have your filter material inside and your mask is ready to wear. Thank you for reading everyone and stay safe.
For more style & lifestyle tips, follow us on Instagram @stylewithsociety or subscribe to get get more.